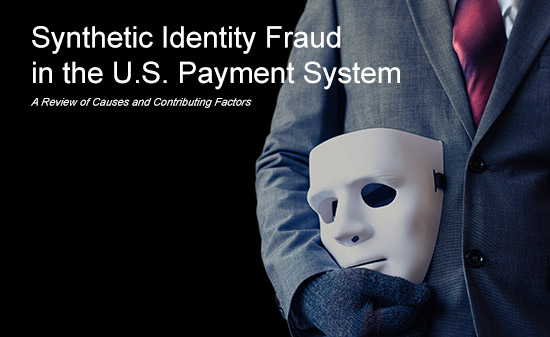 Read our white paper on this growing type of payments fraud (PDF).
A synthetic identity (PDF) is created by using a combination of real information (such as a legitimate Social Security number) with fictional information (which can include a made-up name, address or date of birth). Fraudsters increasingly use synthetic identities to commit payments fraud. However, this type of fraud often is difficult to prevent or detect. The financial sector relies on static, often-compromised personally identifiable information. And financial institutions may not realize fraud has been committed, because ineffective fraud detection methods may portray these synthetic identities as credit-worthy account holders.
As a result, the Federal Reserve has launched an initiative focused on synthetic identity payments fraud, to include…
Education: Build awareness of how synthetic identity payments fraud affects individuals, financial institutions and others in the payments industry. Better understand the causes and contributing factors that allow the creation and use of synthetic identities to perpetrate fraud.
Research: Conduct primary and secondary research for a series of white papers on how this issue can be defined; causes and contributing factors; fraud detection, controls and gaps; mitigation approaches and best practices.
Payments industry dialogue: Host ongoing dialogue with the industry to uncover further insights about the scope of the issue and effective mitigation strategies.
Through this initiative, the Federal Reserve and industry seek to collaboratively reduce synthetic identity payments fraud in the United States over time. To stay up to date on this initiative, submit or update your FedPayments Improvement Community profile and select "Payment Identity Management" as a topic of interest.
A Fed-hosted webinar featuring industry experts discussing synthetic identity fraud and how it affects payments was held Tuesday, April 23. View the webinar here (Off-site).
Resources