The Federal Reserve's longstanding commitment to combat fraud and build awareness includes providing education on fraud trends and improving the security of all payments. One form of payment in particular – checks – is seeing a sizable increase in fraudulent appeal.
The ease of committing check fraud is attracting opportunistic individuals and criminal operations alike. In some instances, checks are being swiped from residential mailboxes or drop-off boxes. Then, they're removing the ink and selling the newly blank check or writing in new information. Surprisingly, this type of fraud is possible despite a slew of robust check security protections (Off-site), such as watermarks, security threads and tamper-evident features. Fraudsters do their best to stay at least one step ahead of the measures taken to catch them and prevent losses.
Counterintuitively, check fraud is growing even though the number of checks written has decreased sharply over the years. The Federal Reserve processes (Off-site) about one-third of all checks written, collected and paid as checks. The Federal Reserve collected (Off-site) about 3.4 billion commercial checks in 2022, down 82% from more than 19 billion checks in 1993.
Earlier this year, the Financial Crimes Enforcement Network (FinCEN) issued an alert (Off-site) on a "nationwide surge in check fraud schemes targeting the U.S. Mail." Banks issued about 680,000 reports of check fraud in 2022, nearly double what they reported in 2021. Meanwhile, the U.S. Postal Inspection Service reported (Off-site) roughly 300,000 complaints of mail theft in 2021, more than double the 2020 level, despite actions taken to make mail collection boxes more secure.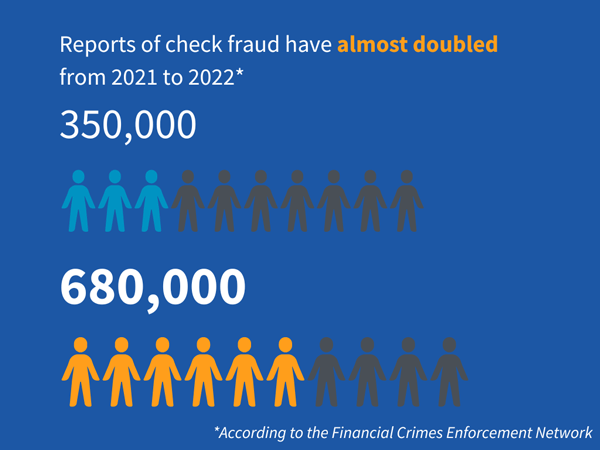 Secure electronic payment methods can reduce payment risk for both businesses and individuals. For example, the Federal Reserve has worked with industry organizations to provide education about more secure business-to-business payments and establish a standard, streamlined way for businesses to send electronic invoices (e-invoices), payment and remittance (e-remittance) information to one another. Federal Reserve Financial Services payment options offered through local financial institutions to businesses and individuals include numerous security safeguards and reports to identify and help mitigate fraud or scams, whether a payment is being transferred electronically or in person.
In everyday transactions, checks still offer a convenient way of paying for both individuals and businesses and create a literal "paper trail." Checks can be made more secure, such as writing with permanent, indelible black gel ink that cannot be removed through washing techniques because the ink seeps into the fibers of a check. Of course, it's always important to regularly monitor and balance checking accounts to quickly spot anomalies, report suspected fraud and stop future fraud attempts. Lastly, financial institutions support the safety of their business and individual checking accounts by watching for signs of check fraud, including non-consecutive check numbers and unusually large check amounts or deposits.
Stay informed of the Fed's efforts to support payment security and mitigate fraud by joining the FedPayments Improvement Community.