Better Fraud Data. Better Defense.
The FraudClassifier model provides an intuitive approach to classifying fraud. It offers a holistic picture to help organizations better understand the magnitude of fraud involving payments.
The FraudClassifier model was developed to help address the industrywide challenge of inconsistent classifications for fraud involving ACH, wire or check payments.
The key advantage of the FraudClassifier model is the ability to classify fraud independently of payment type, payment channel or other payment characteristics. The model focuses on a series of questions, beginning with who initiated the payment to differentiate payments initiated by authorized or unauthorized parties. The result is a holistic view of fraudulent events, which can help with more strategic fraud management. Each of the classifications is supported by definitions to facilitate consistent application of the model across the industry.
The model's classifications provide information on what fraud occurred and how it was perpetrated. Adding payment attributes (such as payment amount, date, type and channel) to these classifications can provide additional insight to help aid the organization in identifying fraud trends.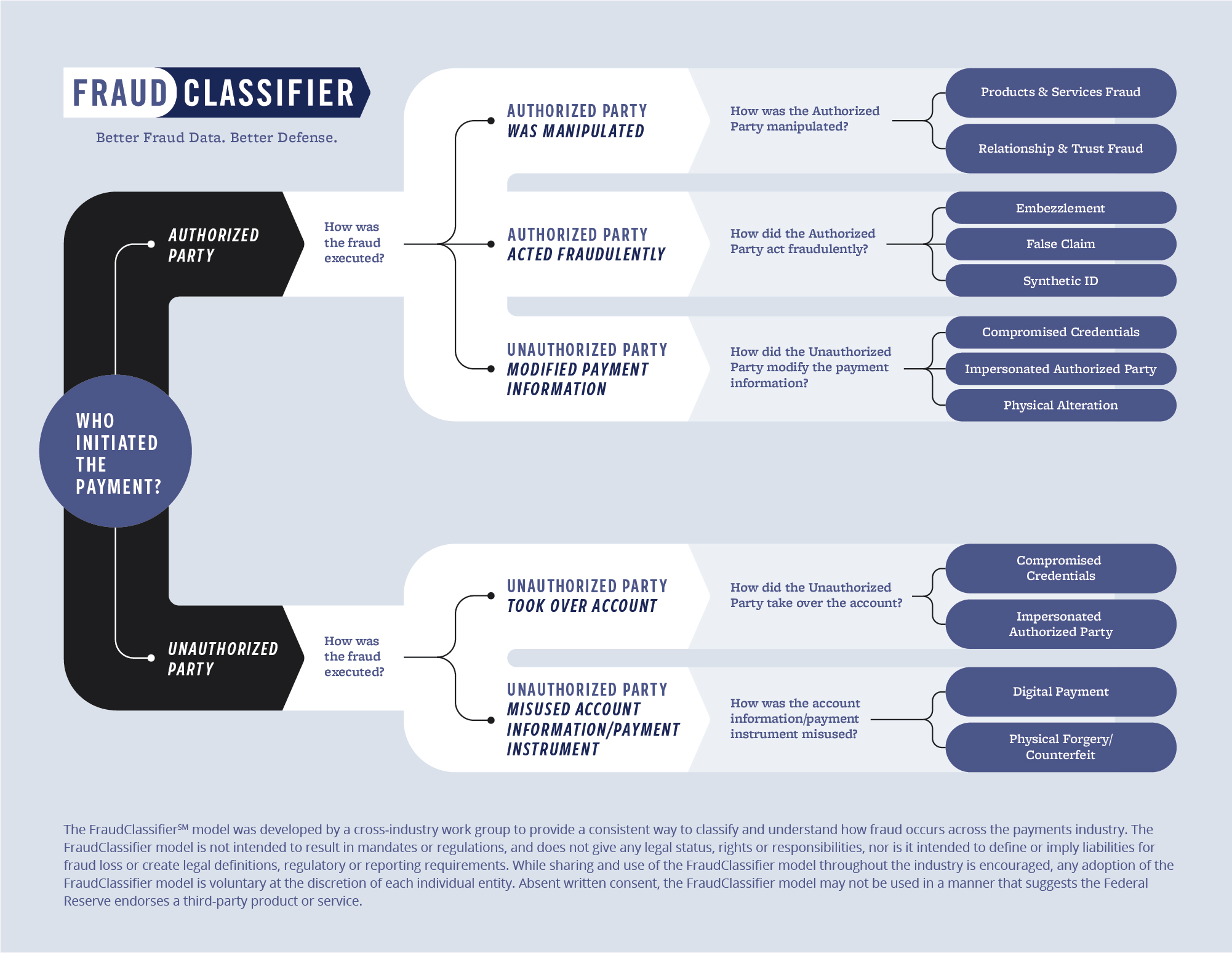 Benefits of adopting the FraudClassifier model include:
Facilitating consistent fraud information and tracking. The FraudClassifier model can be applied across an organization to help ensure greater internal consistency in fraud classification, more robust information and better fraud tracking.
Improving customer education. Through better understanding fraud through insights the FraudClassifier model provides, they can help an organization more effectively educate its customers on current fraud methods and how to protect themselves from being victimized.
Understanding fraud across payment types and fraud methods. The FraudClassifier model was designed to help classify fraud for multiple payment types and fraud methods. Such insights can improve fraud response strategies.
Speaking the same language about fraud. If adopted across the payments industry, the FraudClassifier model can facilitate a common fraud language and help us work together to better identify and fight fraud, fostering a safer payment system for all.
Register to access educational resources and support tools for the FraudClassifier model, such as a downloadable version of the model and supporting definitions, as well as a fraud classification tool. In addition, signing up below will allow you to be notified of model updates and opportunities to provide feedback about overall usability and potential enhancements.
The FraudClassifier model was developed by the Fraud Definitions Work Group, comprised of payments industry fraud experts. Voluntary industrywide adoption of the model could serve as an important step toward improving the consistency of fraud classification and providing the ability to speak the same language about fraud.
To learn more about the Federal Reserve's vision for uniform fraud classification across the payments industry, explore the FraudClassifier model industry adoption roadmap that recommends two distinct actionable paths for advancing industry implementation and efforts to support evolution of the model in response to industry changes and needs.
Review the FraudClassifier frequently asked questions. For additional inquiries and comments about the FraudClassifier model, please fill out this form.