As technology has advanced, consumer payments have evolved and are generally quick and efficient. In contrast, business-to-business (B2B) payments are still largely a costly and manual process, as they have been for years.
The Business Payments Coalition's E-invoice Exchange Market Pilot is challenging this status quo of inefficient B2B payments by developing a virtual network to enable businesses to share electronic invoices (e-invoices) with one another. Since the market pilot's launch in late 2021, industry participants have made great strides to not only establish confidence in the e-invoice exchange framework, but also to prove the industry is ready for this change.
The goal of the market pilot is to finalize technical specifications and oversight policies and procedures in preparation for an operational e-invoice exchange framework for businesses. This framework will propel B2B payments to a modern, electronic payment process – one that is necessary for more efficient, end-to-end payments in the twenty-first century.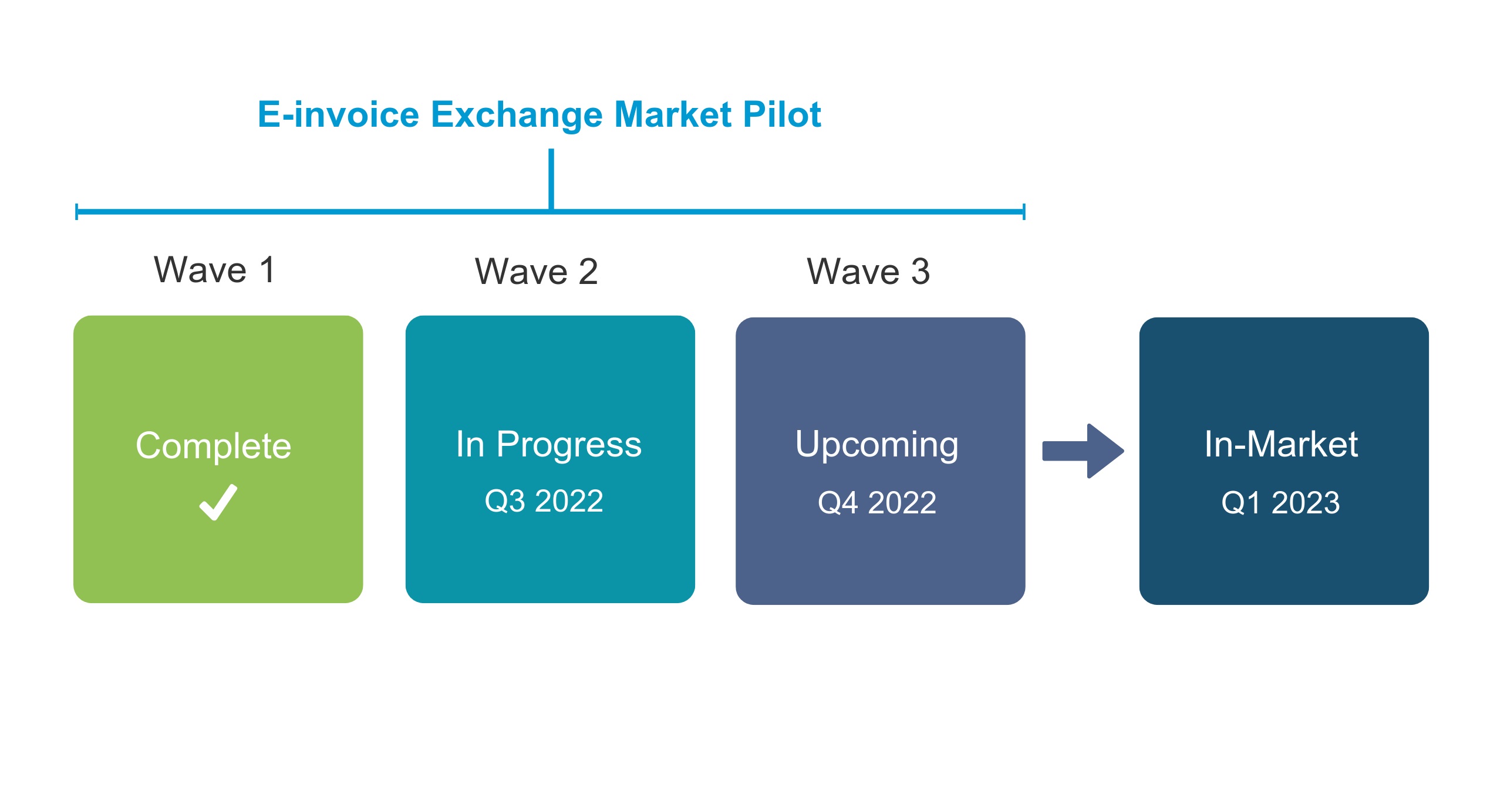 E-invoice Exchange Market Pilot Progress
In wave one, the market pilot successfully reached consensus on the technical specifications and established the infrastructure for market pilot participants to connect to and authenticate the framework. Additionally, detailed steps to onboard businesses to the framework were determined, including the process for registering participants into the exchange framework, and the participation agreement, which is a necessary first step to ensure businesses of all types can join the virtual network and exchange with others. Encouragingly, wave one saw strong participation among all four corners of the e-invoice exchange framework from supplier to buyer and solution providers.
The groundwork to establish these specifications and onboarding procedures is crucial to ensure businesses can connect to the e-invoice exchange framework once, and then exchange with anyone in the network.
With the technical specifications – focused on ease of implementation – established, market pilot participants in the first wave began testing the connectivity of the framework by successfully exchanging electronic invoice information, and in some cases actual e-invoices with each other. This testing established further confidence in both the low effort required for solution providers to integrate their services into the framework, and the ease for businesses to exchange electronic information using the framework.
Continued Momentum
Energized from the success of wave one, market pilot participants are now entering wave two which will further test and finalize long term specifications. As part of this second wave, additional organizations will be onboarded and then join the testing, bringing the total number of participating organizations to 28. In addition, participants will begin planning for the transition from market pilot to the actual production system environment by refining infrastructure requirements, as well as outlining the policy, rules and guidelines for oversight. This second wave will be pivotal to further prepare the framework for when it is operational and used to exchange e-invoices in 2023.
Wave two is expected to be complete at the end of September, and the third and final wave will then begin where participants will finalize specifications for production through end of year. The success of the E-invoice Exchange Market Pilot will allow businesses to exchange e-invoices more efficiently in the very near future. It is also a key step in modernizing electronic B2B payments and advancing the entire payments landscape.
To stay informed of wave two progress and to learn more about wave three, join the FedPayments Improvement Community (select "E-invoicing" and "Electronic Payments and Remittance" under the interest preferences) and connect with the Business Payments Coalition (Off-site). Be sure to follow FedPayments Improvement on LinkedIn (Off-site) and Twitter (Off-site).