Business-to-business (B2B) payments are often slow and cumbersome and allow for limited visibility into payment details. Why are these payments so antiquated and can anything be done to change this?
When one business (the payer) pays another business (the payee) they must also send remittance information, which is the reference information to describe what they're paying for. While it's possible for this information to be included within the payment, most remittance information is sent separately from the payment, in an unstructured form (free-form text) that must be manually processed. Electronic remittance (e-remittance) with structured data can help businesses automate their accounts receivable (AR) cash application processes, reduce payment costs and improve overall efficiency.
The ISO® 20022 standard provides the data content and structured format needed to automate e-remittance information. However, with over 350 remittance data elements in ISO 20022, it can be challenging to understand which data elements payees need, and how to provide it in a way that increases automation of cash application and payment reconciliation.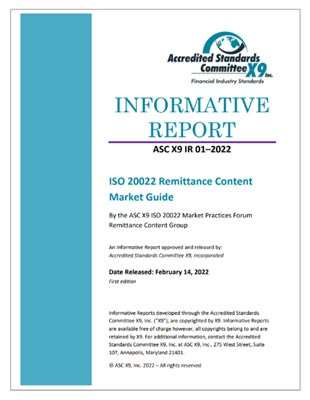 Accredited Standards Committee (ASC) X9's ISO 20022 Market Practices Forum recently released the ISO 20022 Remittance Content Market Guide (Off-site) to clarify what ISO 20022 remittance information to use for B2B payments. The guide includes detailed information and real-world examples to assist with the implementation of ISO 2022 and simplify integration into accounts payable (AP) and AR systems. It also provides guidance for sending remittance information within or separate from the payment, allowing flexibility to meet varying business needs. By promoting consistent use of remittance data, U.S. businesses of all sizes will benefit from the ISO 20022 Remittance Content Market Guide.
With ISO 20022 becoming the dominant payments standard around the world, and increasingly being used (or planned for) by payment systems in the United States – including the FedNowSM Service, RTP, Fedwire, and CHIPS – now is the time to consider how to automate the use of structured remittance information associated with a payment. The ISO 20022 standard, combined with recommended practices in the guide, provides a common definition of data and specific system implementation guidance to increase automation and reduce exceptions and errors.
The guide also includes examples for providing correct and complete structured remittance information in the prescribed format, which is necessary to achieve straight-through-processing (STP). While the guide provides insight to advance the remittance content and format components for achieving STP, a Business Payments Coalition and Federal Reserve work group is making progress on the third component needed for STP: the delivery of e-remittance information that travels separate from a payment.
The Remittance Delivery Assessment Work Group is assessing whether an exchange framework, which supports the ISO 20022 message standard, can facilitate the delivery of e-remittance information. The work group will document its recommendations in a report targeted for publication in the spring of 2022. This industry progress on content, format and delivery of e-remittance information is critical to achieving STP and more efficient B2B payments.
For more information, Join the FedPayments Improvement Community (select "E-invoicing" and "Electronic Payments and Remittance" under the interest preferences). Follow FedPayments Improvement on LinkedIn (Off-site) and Twitter (Off-site).
"ISO" is a registered service mark of the International Organization for Standardization