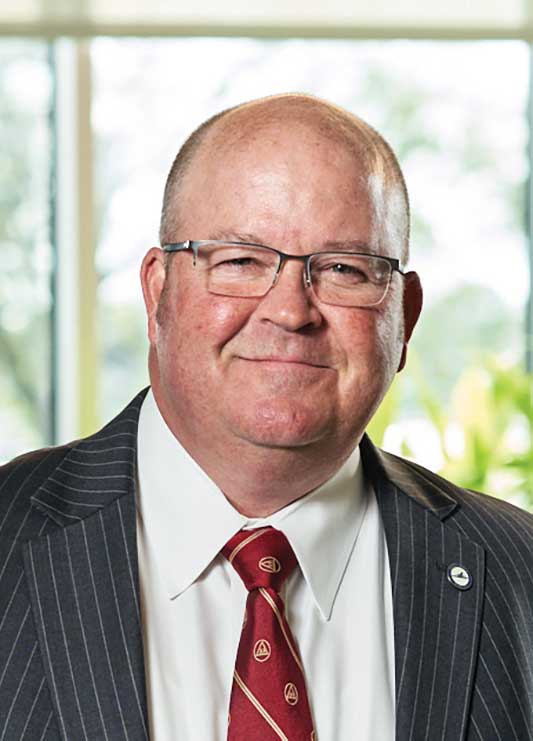 Faster payments may not yet be a leading focus of many small community banks. Scott McComb is working with other community bankers to change that.
McComb is chairman and CEO of Heartland Bank, a community bank based in Whitehall, Ohio that focuses on small- to medium-sized business customers. He previously served as chairman of ICBA Bancard, the association-owned payments provider, and was named ICBA Community Banker of the Year (Off-site) in 2018.
Heartland Bank serves customers with a range of revenues. "Faster payments will change the nature of business for our customers at all levels," said McComb. "For small businesses in particular, we're excited about the greater independence and flexibility they will have with a faster payment rail, compared to other payment systems available today."
For McComb, a business-focused banking approach was only natural – it's a legacy he carried forward from his father, who bootstrapped the conception of Heartland Bank more than three decades ago. A man of modest means, the senior McComb didn't have the money on hand when presented with an offer to buy shares of Croton Bank, the predecessor of Heartland Bank.
"The owner of Croton Bank said to my father, 'You're a smart guy, you'll figure it out.' So my father ultimately raised the funds and purchased the shares of the bank," McComb said. "He taught me the best way to achieve financial independence is by being an entrepreneur – and to benefit from your own hard work."
This entrepreneurial focus has driven the junior McComb to get ahead of the game on faster payments. "We've not seen overwhelming customer feedback for real-time payments, and same-day ACH is still ramping up. But faster payments are going to be the norm in the next five to seven years," McComb said. "At Heartland Bank, we've been trying to get ahead of it."
According to McComb, this is an area that sets Heartland Bank apart from other community banks.
"They [other community banks] may not have people inside their business that fully understand payments," McComb said. "We have an employee with a burning thirst for knowledge and we sent her to get a payments certification. We've made an investment in having her stay on top of faster payments. Most community banks don't have the luxury of doing this. It can be very challenging, especially when their employees are wearing three or four hats."
The need to get out ahead despite the challenges is also a priority for McComb at ICBA. This group of independent community bankers has a focus on payments. It has been working to enable ready-made programs for community banks to embrace faster payments through ICBA Bancard.
"We're creating payments solutions for our community bankers so they don't have to build them from scratch," McComb said. "And we've been trying to get the message out for several years that community bankers need to start studying. They should think of payments as a source of revenue. If you can't offer faster payments, you won't have demand deposits."
For McComb, the process of preparing for the ramp-up to faster payments mirrors that of the ACH adoption curve. "We didn't see people at this bank doing ACH until 1999 to 2001, when it was really convenient," McComb said. "It took 25 years for that to come about, and some small businesses today still don't use ACH as well as they could. We're just now starting to see same-day ACH pick up. With the anticipated faster payments offerings, adoption will be substantially quicker, but there will still be a [learning] curve."
Not having a faster payments strategy today is not a death knell for community banks, according to McComb. However, he underscores that community banks recognize this as a headwind they're going to encounter – and to start planning today. "The community banks that want to exist for the long term should take payments, technology and performance seriously," McComb said. "They don't need every bell and whistle, but they need every hand on deck with a shared focus on the bank's mission and future. If they start paying attention now, they should be just fine."
Scott McComb is chairman and CEO of Heartland Bank, based in Whitehall, Ohio. McComb also serves on several national and local boards of directors, including ICBA, CBAO, TCM Bank, The Ohio Banking Commission and The James Foundation at The Ohio State University.