The Business Payments Coalition (BPC) and Federal Reserve Financial Services have been working to improve the efficiency of how supporting information for business-to-business (B2B) payments is delivered and processed. As a result, BPC E-invoice Exchange Market Pilot participants recently formed the Digital Business Networks Alliance (DBNAlliance) (Off-site) as the legal entity to oversee a new electronic exchange network.
This exchange framework is an electronic delivery network based on a set of technical standards and policies to allow businesses to securely share electronic supply chain documents with one another. It was developed to solve difficult issues businesses face when exchanging invoices between different platforms and systems, such as how to connect to other businesses, what information to send and how to deliver it electronically. As a solution to these challenges, the exchange framework outlines a set of standards to securely exchange electronic invoices (e-invoices) between businesses – even when each business uses different software.

In its oversight role, DBNAlliance will assist service providers to connect to the exchange framework and is responsible for defining electronic delivery standards, policies, rules and guidelines for e-invoicing. Furthermore, DBNAlliance will govern the exchange framework that is now available to all businesses via their service providers.
"Establishing this exchange framework to support all payment types is a significant step for the B2B payments ecosystem," said Guy Berg, vice president, payments improvement, Federal Reserve Financial Services. "Launching DBNAlliance and the exchange framework confirms that now is the time to address B2B payment inefficiencies and realize the benefits of modernized electronic payments."
DBNAlliance Membership Will Benefit All Participants
Today, it is inefficient, costly and overly labor-intensive to process invoices and payment remittance information in the United States. A 2021 Treasury Perspectives Survey Report (Off-site) sponsored by Strategic Treasurer found that 60% of treasurers consider their biggest challenge to be B2B manual processes. The exchange framework allows businesses to send and receive an e-invoice more efficiently, which is a necessary first step to achieving straight-through processing. Straight-through processing of business payments occurs when there is little to no manual intervention required to process the invoice, payment and associated remittance information.
Access to the exchange framework through DBNAlliance membership will improve efficiency for all network participants.
Ease of exchange framework implementation allows businesses to exchange e-invoices in a standard format without significant resources, time or expenses.
Businesses whose service providers are members of DBNAlliance will find the network works within their current operating models with minimal or no system change requirements. Further, the exchange framework supports all electronic payment methods, including ACH, wire, card and instant payments. Businesses simply need to connect once through their service providers to exchange e-invoices in a standard format with all other businesses connected to the virtual network. This greatly reduces manual processes required when using email and B2B payment portals.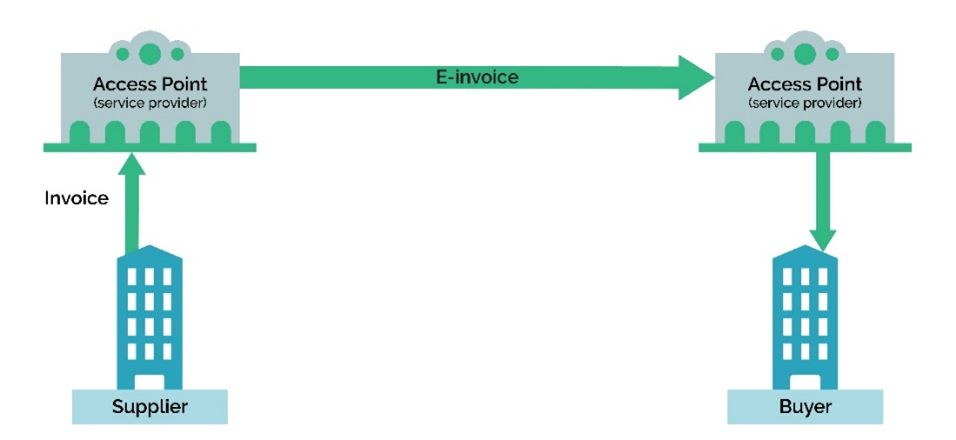 Through these and other efficiencies, businesses can lower costs, reduce errors, mitigate risks and improve their days-sales-outstanding (DSO) and cash management metrics. Further, secure, automated exchange of electronic payments and invoices decreases the risk of unauthorized payment redirection, which is especially important because 98% of B2B firms reported fraud attacks in 2021 (Off-site).
Service providers that join DBNAlliance and connect to the exchange framework will find it is easy to implement and interoperable with other service providers. This reduces costs and expands reach by allowing any service provider customer to exchange e-invoices with customers of all other service providers in the network.
Industry Collaboration: Progress for E-invoicing and E-remittance
In September 2021, the BPC convened the E-invoice Exchange Market Pilot with support from the Federal Reserve. Their goal was to build the exchange framework and test the network's ability to share e-invoices between businesses. As a testament to the importance of this work, the pilot included 73 industry organizations.
Following the pilot, many diverse organizations have come together to continue to lead the industry toward more efficient exchange of e-invoices. In fact, DBNAlliance's board of directors consists of several pilot members, including e-invoice service providers, corporates and electronic document exchange experts with extensive experience with, and knowledge of, the exchange framework's operational model.
To further support end-to-end straight-through-processing of both invoices and payment remittance information, the Fed will assist the BPC with facilitating an E-remittance Exchange Pilot to build a scalable U.S. remittance exchange framework ecosystem supporting all electronic B2B payment methods, similar to the e-invoice exchange framework.
Get Connected with the DBNAlliance
Businesses do not need to become a member of the Digital Business Networks Alliance – they simply need a service provider that is a member to send and receive e-invoices on their behalf. Service providers interested in connecting to the exchange framework first must join the DBNAlliance.
The DBNAlliance offers two options for membership: full or associate status. Once a member, DBNAlliance will share onboarding information detailing how to connect to the exchange framework. Membership will permit service providers access to the exchange framework where one can begin to securely share e-invoices and benefit from a modern, more efficient e-invoice delivery process. Contact DBNAlliance for more information at membership@dbnalliance.org. Businesses interested in sending and receiving e-invoices should contact their service providers to ask if they are connected to the exchange framework.
The exchange framework has the potential to be a platform for other business payment innovations, such as electronic exchange of remittance information and other documents to improve B2B payment and supply chain management efficiency. Connect with the Digital Business Networks Alliance (Off-site) today to be a part of this transformation.
Stay Informed
The Federal Reserve and BPC will continue to engage with the DBNAlliance and broader industry on advancing B2B payments. For updates on this work, join the FedPayments Improvement Community (select "E-invoicing" and "Electronic Payments and Remittance" under the interest preferences), and follow FedPayments Improvement on LinkedIn (Off-site). Become a member of the Business Payments Coalition at https://businesspaymentscoalition.org/contact/ (Off-site).