Experts from the Federal Reserve System engaged with the payments industry during key conferences and webinars this spring. These and other events serve as an opportunity to hear from Federal Reserve representatives about innovations in payments along with the latest insight into FRFS products and services, including the FedNowSM Service to be launched in July 2023.
Nacha Smarter Faster Payments 2023
The industry heard from multiple Federal Reserve speakers at two Nacha events (Off-site): its in-person conference in Las Vegas April 16-19 and Remote Connect event May 8-10. At the in-person conference, the Federal Reserve Town Hall session focused on the Fed's unique, vital role in the evolution of payments, including its upcoming launch of the FedNow Service. Panelists provided insights on the Federal Reserve's strategy to encourage nationwide adoption of instant payments, including how financial institutions can prepare themselves to innovate products and services on the FedNow payments infrastructure.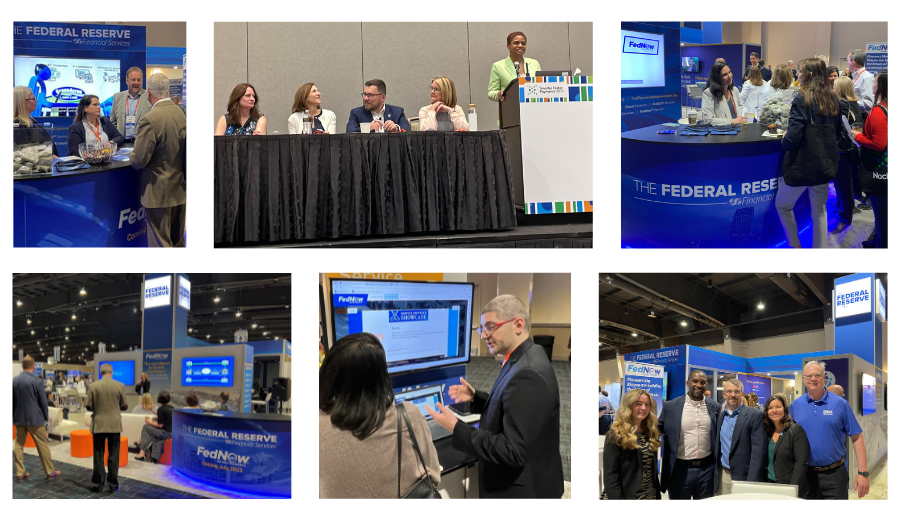 At the Nacha events, Fed speakers and panelists discussed a breadth of payments topics. Their insights about specific payment rails included advice on developing an ACH operations governance mode and how payments can be affected by remote authentication fraud. Big-picture trend discussions included money movement, cash demand, seamless cloud migration, the future of voice payments and transforming business-to-business payments. Future visions were showcased in sessions about autonomous finance and the future of banking, building a stronger U.S. financial market through inclusion, and central bank digital currency.
For a full list of upcoming Fed speaking events and topics, visit our events page.