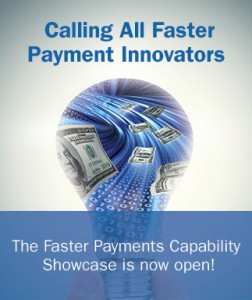 In our previous blog, we had a call-out asking for payment innovators to share with us innovations for making payments faster. Several of you let us know you had something in the works! Now is your chance to display your capabilities to the Faster Payments Task Force and your industry peers via the Faster Payments Capability Showcase (Off-site).
The Capability Showcase is a portal-based forum where solution providers can showcase payment component capabilities that can support end-to-end faster payments solutions. Learn more (Off-site) about the Capability Showcase and how to complete your payments capability submission.
Along with the opening of the submission portal, there are a few other items to note:
Learn More About Submitting a Component Capability
Participation in the Capability Showcase will require that you submit a capability submission form, which requests company information and a video highlighting your capability. Some of the information you can expect to submit in the Capability Showcase includes:
A video of up to seven minutes that provides an overview of your capability
Capability description
Company and contact information
'Component type' or the type of function(s) your capability satisfies from the list of Faster Payments Effectiveness Criteria (PDF) (please note this version of the criteria is a 'draft' and will be finalized in the coming weeks)
Industry segment and business sector from a provided list of options
Public sharing preference – Indicate if your video submission, company profile and your component type classification should be shared in the FedPaymentsImprovement.org Capability Showcase YouTube Playlist for the general public to view or available only within the portal for viewing
Supplementary documentation you think will be helpful in highlighting your capability
Click here (PDF) to learn more about submitting a component capability.
Office Hours
As part of the Capability Showcase, we will be hosting Office Hours, which are an in-person optional opportunity to present your payments capability to the Faster Payments Task Force community. Once you have an approved capability submission posted to the Capability Showcase, you will be eligible to sign up for this opportunity taking place in Chicago on February 25 and 26, 2016. Office Hours options will be provided on first come, first serve basis. In order to participate in this event, you will need to submit your capability to the showcase by February 5, 8:00 p.m. ET.
YouTube Postings
Capability Showcase submitters have the option of making their approved content available for viewing by the general public. Submissions noted for public viewing will be available on our FedPayments Improvement YouTube Channel (Off-site) and in the Faster Payments Capability Showcase Video Submissions playlist. Be sure to subscribe to our YouTube channel (Off-site) to stay up-to-date on the latest video submission postings.