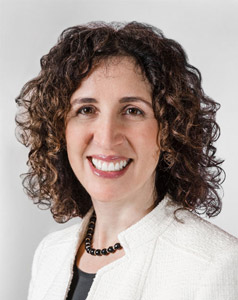 Rebeca Romero Rainey, president and CEO of the Independent Community Bankers of America (ICBA), has a deeply personal connection to community banks. She was raised in a small town where her parents owned a community bank and worked there as a teenager. "From a young age, I saw the good, the bad and the challenging," she said. "I was intrigued with the hands-on approach to running a business, supporting other businesses and supporting your community."
She says it became obvious during her time away at college that returning to the family business offered an opportunity to have a positive impact and make a difference. "Community banks are quite literally invested in the success of their community. If the community succeeds, the bank succeeds," she said.
She began working alongside her father, learning the ins and outs of the business, executive leadership and managing complex projects. Two years later, at the age of 22, she was promoted to bank president.
Her experience running a community bank shaped her understanding of the industry and her support of community banks at a national level. ICBA is dedicated exclusively to representing the interests of the community banking industry and its membership through advocacy, education and products and services.
Romero Rainey is clear about her intentions as a leader – she wants to make sure community banks are getting fair representation. "It's a matter of advocating for community banks to have a level playing field in which to operate," she said. "At the end of the day, if community banks have a level playing field you can stack them up against any financial institution competitor. That's a challenge that we're continually tackling as an association and as an industry."
One area of advocacy that is important to ICBA is pushing for simplified processes to support small-business lending. Romero Rainey points to Paycheck Protection Program (PPP) loans, and the role community banks played in deploying funds needed by many businesses affected by COVID-19. According to the Small Business Administration, community banks made nearly 3 million PPP loans, serving 57.5% of all recipients. And even before COVID-19, community banks accounted for 60% of small-business lending.
Romero Rainey encourages policymakers to offer regulatory flexibility for community banks and to continue advancing reforms that support community banks and the communities which they serve. "The regulatory environment should support community banks working with small businesses to keep them alive over time," she said.
Like the rest of the industry, Romero Rainey is also considering the rapid shift toward digitization as a result of COVID-19. ICBA Bancard, the payments subsidiary of ICBA, is helping community banks prepare for this future state, and recently launched the Digital Payments Strategy Guide (Off-Site) in partnership with Aite Group as a blueprint for community banks to serve small businesses and identify gaps within existing and planned offerings.
"It's an exercise in change, and it's been fascinating to see what banks have done to operate in this environment. In some cases, the current situation has motivated them to hit 'fast forward' and re-examine their offerings," she said. According to Romero Rainey, it's increasingly important for community banks to develop business models to deliver high touch, community-based service in a digital world.
"There is a remarkable shift toward digital payments and banking, whether that's person-to-person payment adoption within community banks, remote deposits or contactless payments," she said. "These new ways of doing business are all gaining traction, and making sure that community banks have competitive offerings in this space continues to be an area of focus for us."
Preparing for the future state of community banking – from policy to payments – leads Romero Rainey to consider one area she is especially passionate about: the next generation of bankers.
"I care about the industry and its vitality moving forward. That means making sure there are strong plans for succession and an active generation of new bankers," she said.
To achieve this, Romero Rainey says she will continue to tell the community banking story, help get younger people involved, and provide educational opportunities about the industry. For her, continuing to foster and inspire the next generation will guarantee continued success of community banks and, by extension, the communities which they serve.
Rebeca Romero Rainey is president and CEO of the ICBA, the leading advocacy organization exclusively representing community banks. She is one of the nation's foremost advocates of the community banking industry, with a focus on regulatory reform for our country's more than 5,000 community banks. Romero Rainey has served on the Federal Deposit Insurance Corp. Advisory Committee on Community Banking and the Kansas City Federal Reserve Community Depository Institution Advisory Council. In addition to graduating from Wellesley College, Romero Rainey holds a degree from the Pacific Coast School of Banking.