Improving cross-border payments has been challenging on a global scale, but a recent initiative from the Financial Stability Board (FSB), Committee on Payments and Market Infrastructures (CPMI) and other global organizations continues to help pave the way for systemic improvements in the space. The FSB recently published its Stage 3 Roadmap (Off-site), the final report in a three-part series geared toward enhancing cross-border payments.
The roadmap determines a comprehensive plan – including key actions and milestones – for addressing cross-border payments challenges including high costs, low speed, limited access and transparency. The report follows Stage 2: Building blocks of a global roadmap (Off-site), drawing upon previously defined focus areas to provide timelines and key actions needed to achieve them. At a high-level, key actions include: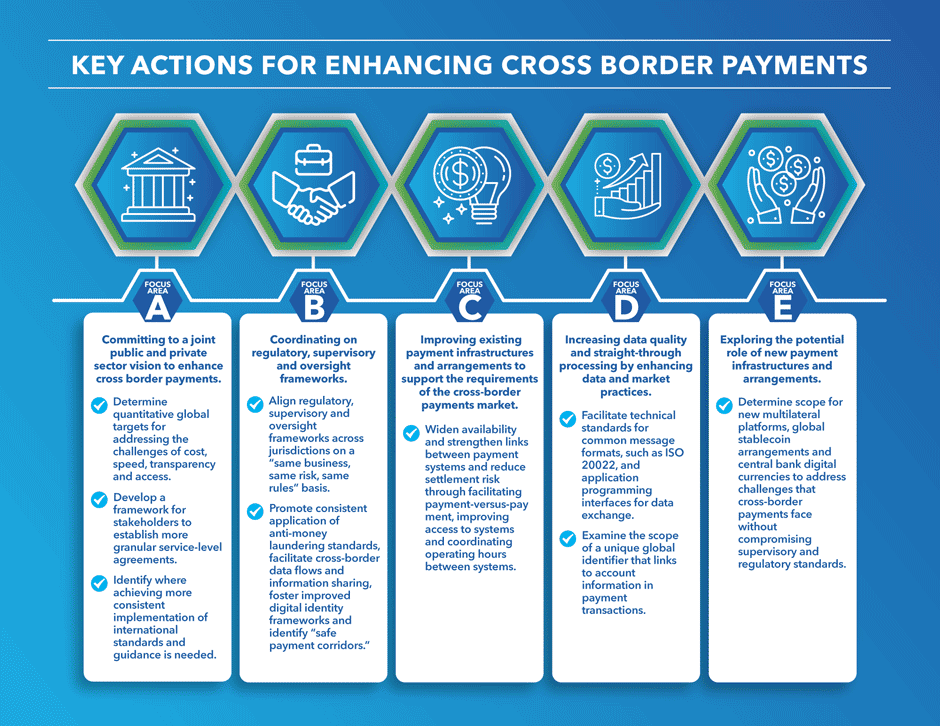 Stakeholders involved in implementing the key actions and milestones determined in this roadmap include Financial Action Task Force, The Basel Committee on Banking Supervision, International Monetary Fund, World Bank and more. The involvement of the private sector will also be an important part of implementation, from sharing insight and practical expertise to delivering on change.
Moving Forward
The Federal Reserve will continue participating in this global collaboration and assessing potential opportunities and implications for the United States and the industry. The Federal Reserve also independently monitors developments in cross-border payments and engages with stakeholders to gather input and foster broader industry education and dialogue. Check back for updates and to learn more about the cross-border payments landscape and initiatives underway.