A key step in the business-to-business (B2B) payments process is the retrieval and reconciliation of the remittance information, or the details that describe what is being paid, with the payment and the order status in the accounts receivable system. Today, this is a largely manual and time-consuming process, involving emails and/or portals.
The Business Payments Coalition (BPC) and Federal Reserve have been collaborating with industry experts on a work effort to solve for this challenge and modernize the exchange of electronic remittance (e-remittance) information using an exchange framework ecosystem. An exchange framework is an electronic delivery network based on a set of technical standards and policies that allows businesses to securely share electronic supply chain documents with one another.
As a result of this collaboration, the Remittance Delivery Work Group completed a validation phase in the summer of 2023, where they successfully demonstrated it is operationally feasible for an exchange framework to cost effectively deliver e-remittance information. The work group published their findings in the Remittance Delivery Validation Report (Off-site, PDF).
To reach this current validation phase, the industry had to first understand whether it is possible to establish an e-remittance ecosystem on an exchange framework.
Feasibility Assessment Phase: Is an Exchange Framework Feasible for Delivering E-remittance Information?
In September 2021, more than 40 industry organizations joined the Remittance Delivery Assessment Work Group where they unanimously determined it is feasible to establish a remittance exchange framework, similar to the e-invoice exchange framework, with some minor adaptations. Work group participants found the exchange framework provides a standard, secure way to deliver e-remittance information that will minimize the need for businesses to make changes to their account payable and account receivable systems.
With feasibility established, an immediate next step for the work was identified: proceed to a validation phase and test the framework's operational abilities for e-remittance exchange. Many participants from the Remittance Delivery Assessment Work Group progressed to this validation phase, inspired by the vision of a modern remittance delivery system.
Validation Phase: Can an Exchange Framework Deliver E-remittance Information?
Early in the validation phase, work group members voted to use the E-invoice Exchange Market Pilot's exchange framework infrastructure, which is now overseen by the Digital Business Networks Alliance (Off-site). This electronic exchange framework became available for use by all businesses to exchange electronic invoices in early summer 2023, following the successful completion of the BPC's E-invoice Exchange Market Pilot.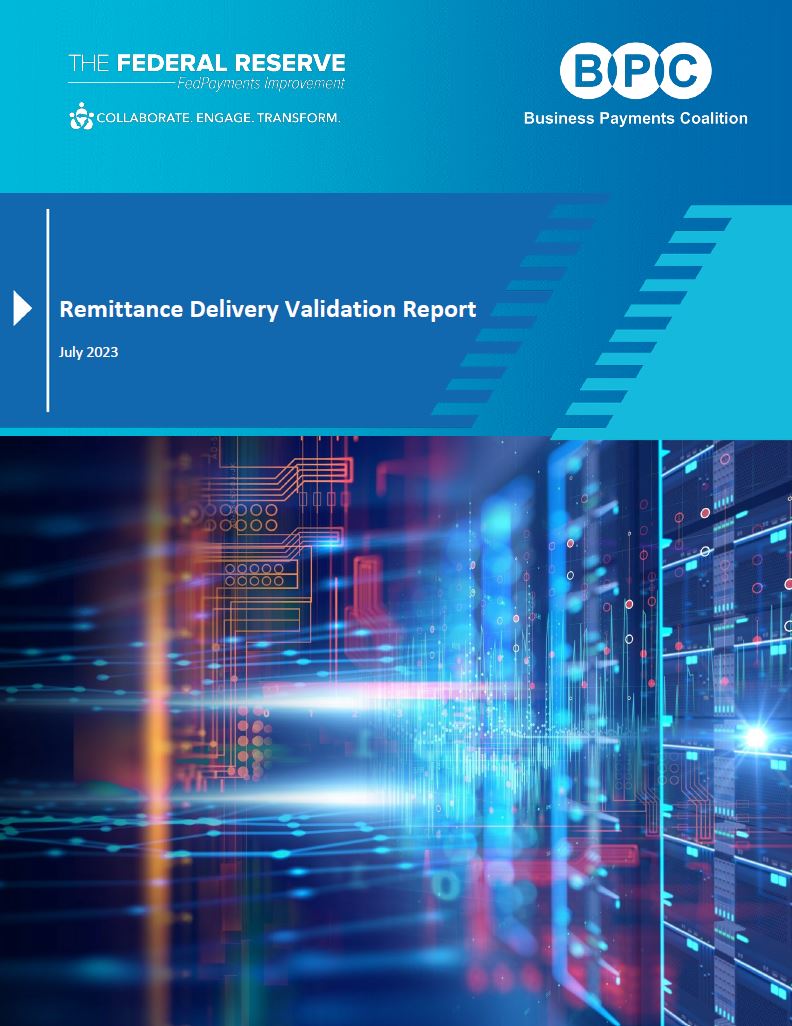 Through extensive validation testing, the work group participants demonstrated an exchange framework can both facilitate the exchange of e-remittance information and enable straight-through processing, regardless of accounting system used. This is a major breakthrough as it moves the industry closer to a completely automated payments process from start to finish.
The successful testing confirmed an exchange framework can help businesses of all of sizes implement consistent cash application processes for all payment types, while minimizing changes to accounting systems. Further, the exchange framework will also help reduce exceptions because it standardizes remittance information. This will greatly lessen the current manual processes involved with the exchange of remittance information between businesses.
The success of the validation phase increases industry confidence that an exchange framework can support both the sending and receiving of e-remittance information. This has the potential to greatly improve the efficiency of B2B payments and enhance the end-to-end value proposition for electronic B2B payments.
Upcoming Pilot Phase: What's Next for
E-remittance?
With the validation phase now complete, the work group unanimously recommends moving to a pilot phase using the DBNAlliance's exchange framework. This pilot will build on the momentum of the validation phase and focus on the following:
Piloting a fully operational exchange framework.
Finalizing the ISO 20022 remittance data model.
Preparing for the establishment of a production remittance exchange framework.
At the recommendation of the work group, the BPC, with support from the Fed, will proceed with facilitating an E-remittance Exchange Pilot supporting all electronic B2B payment methods. This pilot phase will be the final test before market adoption of an exchange framework for e-remittance information.
A future where businesses can process an invoice, payment and associated remittance information with little to no manual intervention is looking closer to a reality than ever before.