Experts from the Federal Reserve System engaged with the payments industry during key conferences this fall. These events provided opportunities to collaborate with members across the ecosystem on payment system innovations and Federal Reserve Financial Services (FRFS) product/service enhancements.
Here are key themes from the Sibos, Money20/20 and AFP conferences, as well as the Fed's own Chicago Payments Symposium:
Fraud is always top-of-mind. Financial crime prevention, using AI and machine learning for fraud detection, and how fraudsters continue to keep pace with modern anti-fraud tools and measures were among the key themes at multiple conferences. FRFS leaders explained how the Fed continues to convene fraud and payments industry experts to improve understanding of fraud and scam trends for better mitigation, and use the FraudClassifierSM model and information sharing to help the industry better identify, detect and classify fraud.
The future includes widespread use of instant payments. Financial institution and fintech engagement varies, ranging from offering a full range of instant payments products/services to exploring instant payment implementation and benefits for customers and their own organizations. FRFS experts provided general instant payments information, citing numerous business and consumer use cases that include facilitating faster bill payment using request for payment functionality. (For more information on use cases, visit the Instant Payments University (Off-site) on the FedNow® Explorer website.) In addition, conference presenters discussed the features of the FedNow Service and its adoption progress (Off-site).
More efficient B2B payments are possible. Collaborative work is under way to advance business-to-business (B2B) efficiency, safety and speed by developing and implementing an exchange framework, which is an electronic delivery network based on a set of technical standards. Among the examples of this work cited: the Business Payments Coalition's (Off-site) E-invoice Exchange Market Pilot and E-remittance Exchange Pilot.
Cross-border payment trends. Presenters at the fall conferences discussed initiatives to improve the speed, access and transparency of cross-border payments while reducing their cost, with specific goals to achieve by 2027. Migration to ISO® 20022 standards is an integral part of this work.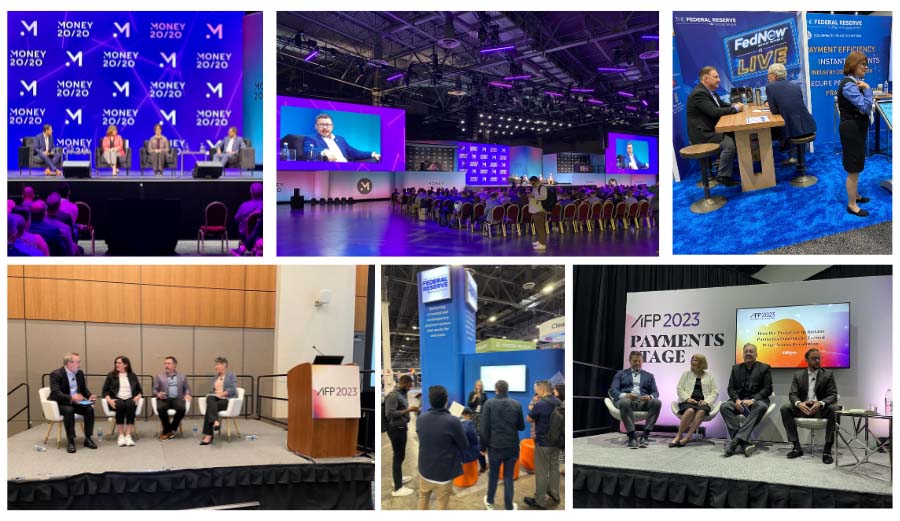 For a full list of upcoming Fed speaking events and topics, visit our events page.