Payments industry stakeholders attending the April 20 Nacha Payments 2020 Remote Connect virtual event received an update on the FedNow Service, the Federal Reserve's instant payment solution.
"The FedNow Service continues to be a high priority for the Federal Reserve and is currently in active development. Work continues on building the service even in this challenging time, and is expected to be available, as publicly discussed, in 2023 or 2024," said Nick Stanescu, senior vice president and FedNow business executive.
During his presentation, Stanescu also noted, "We consider industry engagement a key component of the FedNow Service development plan, and are actively planning additional opportunities for industrywide collaboration on service features and design."
The Federal Reserve is developing the FedNow Service to enable financial institutions of every size, and in every community across America, to provide safe and efficient instant payment services in real time, around the clock, 365 days a year.
The FedNow Service will provide integrated clearing and settlement functionality, as depicted below. Financial institutions will be able to exchange rich data to make debits and credits to the accounts of their customers and to notify their customers of completed (or failed) payments within seconds. The Service will conduct real-time, payment-by-payment, final settlement of interbank obligations through debits and credits to balances in financial institutions' master accounts at the Reserve Banks.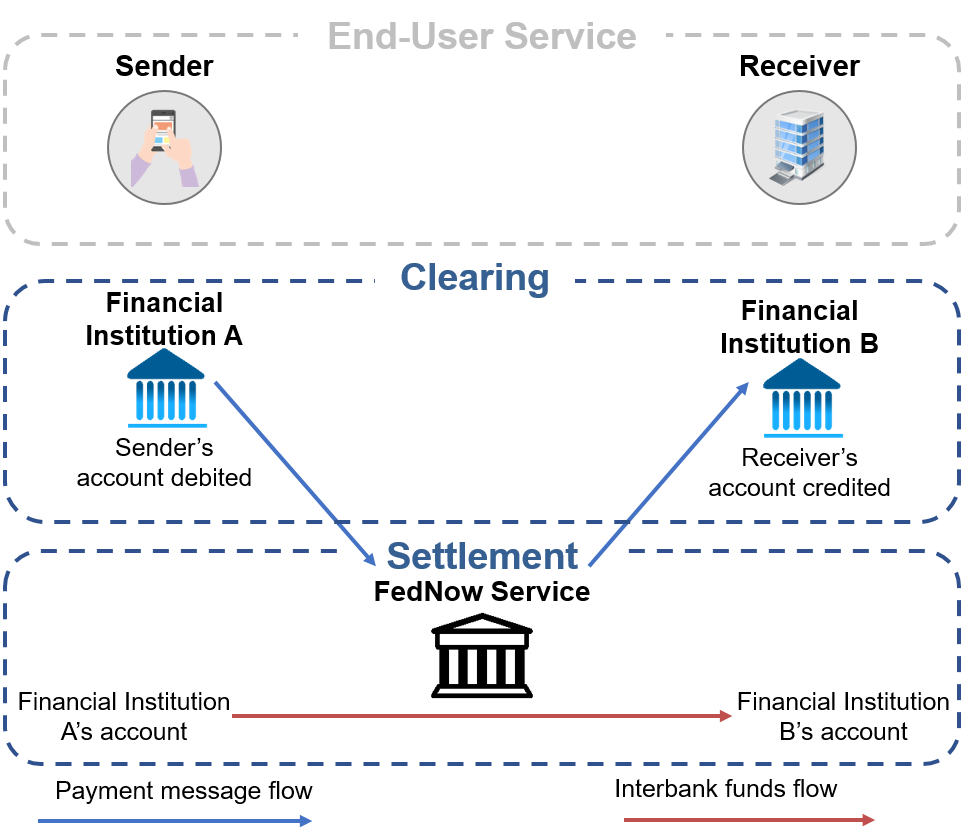 Nationwide reach is the ultimate goal for instant payments, and providing choice through a competitive landscape and encouraging innovation by industry stakeholders will be important factors in achieving this goal. A payment system with multiple operators of instant payment services can achieve nationwide reach through interoperability, where a sender can initiate a payment and it will seamlessly reach the receiver, regardless of the service operator.
Stanescu went on to explain that interoperability can be achieved in multiple ways, similar to ACH payments where messages are exchanged across services or similar to funds transfers where banks can be part of more than one service but all join one service. He explained that the FedNow Service team is assessing interoperability, including message standards, technical specifications, clearing flows, settlement arrangements and terms defining the end-to-end experience.
"The potential paths to interoperability will continue to be evaluated in close cooperation with the industry," said Stanescu. "As the Federal Reserve progresses, it is important that our industry partners remain up to date on the latest efforts."
As for next steps, Stanescu indicated that the Federal Reserve is currently:
Considering more than 180 comments received in response to the August 2019 Federal Register notice (Off-site), and assessing any implications for the features and design of the FedNow Service.
Planning additional industry engagement opportunities that will allow stakeholders to engage further in the development of the FedNow Service.
The Federal Reserve Board will publish a service description with general functionalities for the FedNow Service in a Federal Register notice later this year.
Additionally, the Federal Reserve is seeking active participation from a variety of organizations that will represent the key constituents of the FedNow Service ecosystem by signing up for the new FedNow Community (Off-site). Interested individuals should submit the FedNow Community participant profile form (Off-site).