Is the Customer Real or Synthetic?
A key challenge in detecting synthetic identities is that fraudsters can be adept at forging documents and creating public records using false identities. Fraud detection tools and solutions also can be evaded, as they are only as good as the data that trains them to detect fraud.
Fraudsters employ numerous tactics to pass identification requirements and make their fictitious identities appear real, including:
Fabrication of identity documents (such as driver's licenses, passports and state IDs)
Enrollment in utilities or municipal services
Creation of social media profiles for the fake identities
Validating identities beyond a customer's name, date of birth, address and identification number offers an opportunity to help further mitigate the risk of a synthetic. With more information to verify, a more informed decision can be made about whether a person actually exists.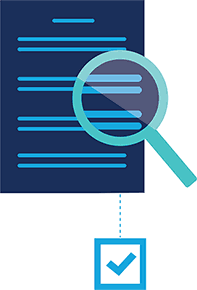 Identity validation tools include:
Validating Identities Through Alternative Data
While it is important to verify an identity using primary elements, such as name, Social Security number and birthdate, using additional public and internet-based information – or "alternative data" – for identity validation can help financial institutions gain a higher level of confidence that the applicant is a real person.
"Identity proofing" is the process of triangulating data about an identity to help confirm the identity presented is legitimate and belongs to that individual. This includes verifying identity elements (e.g., in an application) and identity documents to help determine if those elements make sense for the identity.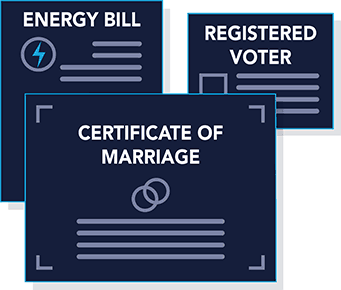 What potential additional information might be reviewed to determine if an applicant is really a synthetic identity?
Credit profile
Public records
Online profiles
Internal data reviews
To avoid negative impacts and potential financial loss, organizations can leverage alternative data to increase their confidence that an applicant is real and not likely to be a synthetic identity.
Downloadable Resources
Explore these resources to learn more about validating identities.
The synthetic identity fraud mitigation toolkit was developed by the Federal Reserve to help educate the industry about synthetic identity fraud and outline potential ways to help detect and mitigate this fraud type. Insights for this toolkit were provided through interviews with industry experts, publicly available research, and team member expertise. This toolkit is not intended to result in any regulatory or reporting requirements, imply any liabilities for fraud loss, or confer any legal status, legal definitions, or legal rights or responsibilities. While use of this toolkit throughout the industry is encouraged, utilization of the toolkit is voluntary at the discretion of each individual entity. Absent written consent, this toolkit may not be used in a manner that suggests the Federal Reserve endorses a third-party product or service.