Timing Creates Fraud Opportunities
The COVID-19 pandemic created many opportunities for fraudsters to leverage previously created synthetic identities that were lying in wait for the right time to cash out. For example, criminals exploited various government relief programs that were established to aid individuals during the pandemic.
In August 2020, two South Florida men were arrested on bank fraud conspiracy charges for creating more than 750 synthetic identities dating back to 2017 – some of which were used to fraudulently obtain millions of dollars from an emergency relief loan program.
Here is a timeline of key events in this fraudulent scheme: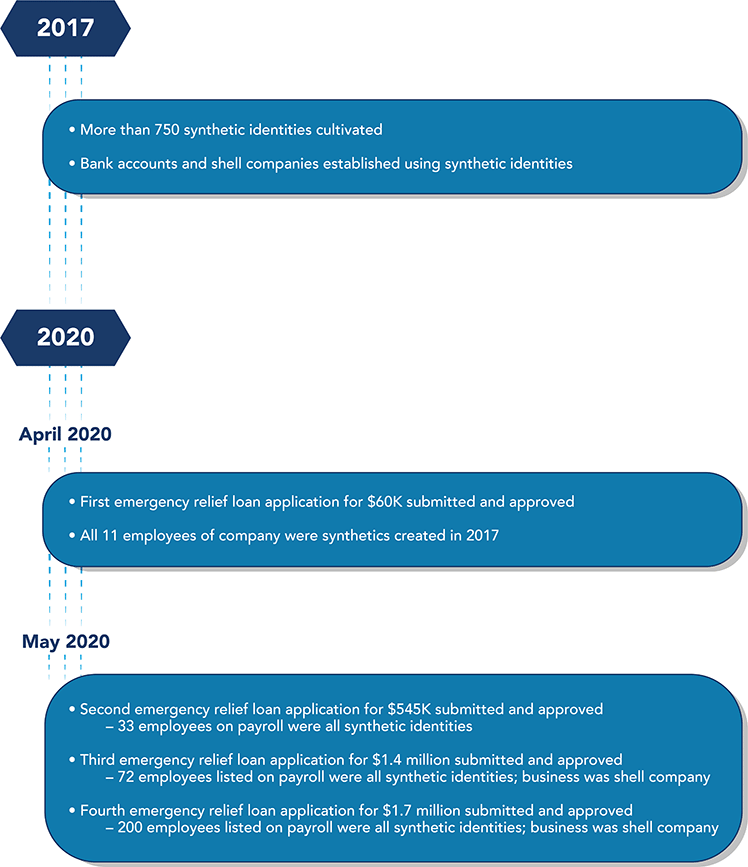 Downloadable Resources
Explore these resources for additional information on common use cases.
The synthetic identity fraud mitigation toolkit was developed by the Federal Reserve to help educate the industry about synthetic identity fraud and outline potential ways to help detect and mitigate this fraud type. Insights for this toolkit were provided through interviews with industry experts, publicly available research, and team member expertise. This toolkit is not intended to result in any regulatory or reporting requirements, imply any liabilities for fraud loss, or confer any legal status, legal definitions, or legal rights or responsibilities. While use of this toolkit throughout the industry is encouraged, utilization of the toolkit is voluntary at the discretion of each individual entity. Absent written consent, this toolkit may not be used in a manner that suggests the Federal Reserve endorses a third-party product or service.